Nameste! and welcome to Nepal...
NEW! Nepali Ann's Nepali Language Primer - Pack some Nepali language skills with you before you head out there, andh experience so much more. Skip the pricey phrase books, they force you to memorize meaningless strings of sounds, and check out my super fast intro that will get you up and speaking in no time,
Meet the Sapkotas! - Devi, Sarita, Prakash, Radha, Aama, Haji ...the gang's all here, my family in Nepal and our crazy adventures together. A day in their life in today's Nepal!
Culture & Traditions - Festivals, Weddings & other Rituals Check out story & photos describing a full traditional Nepali wedding!
Current Situation - Maoists, Refugees & the Royal Tragedy - including photos and story of the week after the massacre.
Looking to volunteer in Nepal? There are lots of options. Volunteer with Hope Initiative, the charity I founded in 2004. Our projects include a home for orphaned children, computer education centers in rural villages. We need volunteers both in Nepal and in the US. Contact me for more info.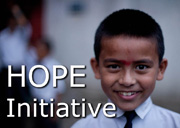 Volunteering - Opportunities to volunteer Help Check out my stories & photos on teaching English in a rural village!
Personal Recommendations - The Best of Nepal Places to See, Eat & Stay & other vitals you'll be glad to know.
Travel & Tourism in Nepal - Trekking & other things to know before you go ... Nepali Ann's itty-bitty guide to travel in Nepal. I will be updating this as new questions arise.
Facts about the Nepal - Things you never knew
Map of Nepal - Places you might like to go
History of Nepal - Things you might like to know
Coming Soon!
Nepali Music - Folk, Traditional & Pop Aural Gratification
the voyager: Ann-Marie Conrado