Much Adu about Apple Pie, Pilgrimage to Jomosom

Day 8: Tatopani to Ghorepani (12 hours of straight up hell)

We left early that day, around 7:00, with the goal in mind of trying to make it to Ghorepani in one day. Even from the map it seemed long, but those numbers printed on the page next to the village names don't mean much in the abstract. 2000m, 2400m, 2850m, 3150m except that they were steadily increasing the entire trail. Soon after leaving Tatopani, we crossed a very long suspension bridge that was clogged for awhile by a herd of cows. Then we came to the fork in the road. One trail led to Galeshwore and Beni from which you could catch a bus back to Pokhara, the other, led straight up to Ghorepani.

We started climbing, the trail from the bridge to the pass, was a long sequence of muddy steps. At the top of the pass, we squeezed through a narrow gap in the rocks and came out on the other side of the mountain, with a vast panarama in front of us, the terraced hills of the lower Annapurna area stretched out before us, and I tried to get Devi to point out where Ghorepani was, how far we still had to go. It should have been an indication when he was silent and didn't say anything for our destination was so far away, it couldn't be seen.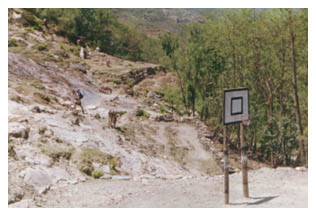 a makeshift basketball court high in he hills around Sikha
We trudged on, for some time, our path was somewhat level, a little up and a little straight, but never down. Alway, evermore inclining. But soon we came to another series of stairs and climbed steadily for almost two hours. We stopped often, to give not only Ken, but all of us a rest. Devi took his daypack to give him extra energy and we finally stopped around 2:00 to have lunch in Sikha. There, Devi put forth the question, if they were too tired, we could stop and stay the night in Sikha. But Ken was determined to keep going, having set his mind on making it to Ghorepani. We ate quickly and moved on.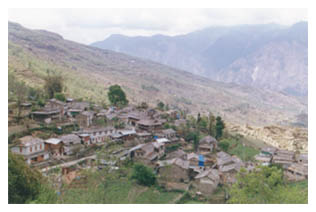 the village of Sikha
From here on out, the path was all the way up. Stairs, stairs, incline muddy path, and more stairs. The weather had not been favoring us, and the day became cool and misty. It rained off and on, and we all took out our parkas, though there we not enough. Lisa had some large trash bags and we made good use of them. Two hours out of Sikha, we stopped at the home/lodge of a friend of Devi's. He talked with them for some time, and the owner came out and offered Ken the use of his horse for the remainder of the journey to Ghorepani, but Ken refused. Later, he admitted, it was not out of determination but sheer fear, the fear of falling off a horse that was going up a staircase. The hours passed, and still we climbed. The landscape changed around us, and we entered into the famed forests of the lower Annapurna. The trees were wild, and grew up tall and tangly on all sides, except for the majestic Rhododendron tree, bursting with volumputous red blossoms. They were so beautiful, the blooms resembling bright red apples set against the green leaves. I plucked a fallen one from off the ground and stuck it into my ponytail. It was dream-like, the mist obscuring the trail all around us. The thick foliage falling on all sides, and large boulders scattered about. It grew later and later, and secretly Devi worried that soon it would be nightfall and much harder to make our way. I felt like Smurfette continuously asking Papa Smurf on one of their long journeys, 'how much longer' ...'almost there'
We pulled into Ghorepani at a little past 7:00 on the evening. It had been such a long day, a full twelve hours of walking. Ken was amazing. I am in awe that he made, but don't misunderstand me, it wasn't easy. He labored every step and stopped often. Lisa parcelled out energy bars throughout the day to perk us up when we needed it most. Definately an accomplishment.
Devi's friend with the horse was actually the owner of a lodge in Ghorepani as well, and he had offered the horse to Ken to take up while he would walk alongside us, but as Ken declined, he went ahead by horse and saved rooms for us all at his lodge. He looked so happy when we pulled in, relief washing over what I think was his worried face as it grew later and later. We settled into lodge, which had such a strange and interesting concept. There was a separate sleeping and dining building. In the sleeping one, when you first entered, there was a large wall of cubby holes with people's shoes inside. From that point on, he had carpeted the floor with a very thick but very, very soft flooring, so that you felt like you were walking on a pillow. It was so strange. The entire space was carpeted like that, and you were not allowed to wear shoes because they would damage the floor. It was strange because I woke twice to go to the bathroom and I felt so weird walking barefoot, padding slowly through the halls to the bathroom.
Day 9: Poon Hill (1 hr up) Ghorepani to Tikhedungha (6 hrs)
BEEP, BEEP, BEEP, BEEP ...the echoing of several alarms clocks rang out in the lodge. The walls to each room were never more than a single sheet of plywood, so sound traveled freely throughout. It was 4:30am and everyone was getting up early to make the last climb to Poon Hill and see the sun rise over the entire Annapurna range. I called through the walls to Lisa and asked if she was still up for it. She was, but Ken was in no shape. Prakash and Deepak also took a pass, but I managed to convince Devi to come. We bundled up because the night still had a good chill about it and as we were climbing higher, it was only going to be colder still. Outside, small pockets of trekkers milled around, as if they were waiting for a leader to show the way. We followed Devi through town and on to the trail leading to the top. It was about an hour climb and we lost Lisa about half way. She reached a point where she felt like the entire panorama was visible and it was necessary to climb anymore. But I felt the need to get to the viewpoint, to the top. I finally made it and came to the top which had one iron viewing tower and a number of small booths manned by enterprising Nepalis selling hot cups of chai and coffee. And of course, all the trekkers. It was packed! There were so many people on the top that I though maybe Lisa had made the right choice by taking in the sunrise in peaceful tranquility.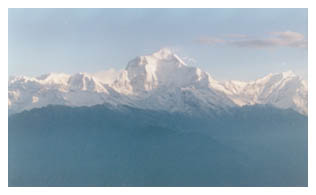 Dhaulaghiri mountain of the Annapurna range
But the view was unbelievable! It stretched out to both sides, and I could barely take it all. I had to turn from side to side to see it all. The Annapurnas were laid out before me in all their glory. Dhaulaghiri to the far left, the Annapurnas (South, 1, 2, 3) in the middle and Machapuchare (Fishtail) over the far right. The sun came in over the twin peaks of Fishtail, casting in into dramatic shadow while Dhaulaghiri was a brilliant shade of pink.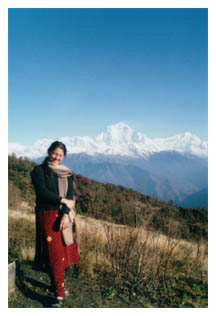 Most amazingly, we ran into our friends again, the Aussie family on top. Though they had left Tatopani a day earlier, they didn't attempt to make it to Ghorepani in one day, choosing instead to lodge in Sikha. It was so nice to see them again, such a lovely family. We happily snapped photos. They had the most curious tradition, but it was great fun. Everywhere they went on their travels, they took along Buzz Lightyear as like a lucky charm or a mascot. They would always photograph him in the various settings as a great reminder of their trip. Here is my rendition.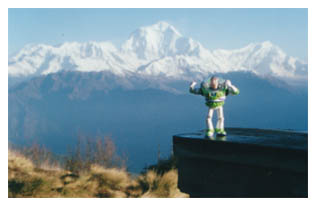 To infinity and beyond...
We finally headed back down to Ghorepani. Most everyone had already left, satiated and ready to head home. When we arrived back at the lodge and Deepak and Prakash were already chowing down. We had a huge breakfest and Ken, nursing his sore and aching muscles, proclaimed that the view from the lodge windows had been magnificant in their own way. We decided to head on, Ken had no intention of doing anymore climbing the rest of the trip, and luckily it was all the way down from there.
We descended through the Rhododendron forest again, but this time the sun was shining and the the forest was alive with color. The steps however, were hazardous in their own way, and a few of us stumbled more than once heading down the uneven stone steps and trail. They were muddy and slick in places, and their uneven surfaces made it a challenge to find the most stable point. Some of the rocks looked like steps but were merely rocks and when you placed your weight on them, they rocked from side to side, throwing you off balance. You have to take care when descended because it seems easy but is actually very hard on the joints and also your toes, which crammed into the front of your boots with every step, can get easily sore and blistered.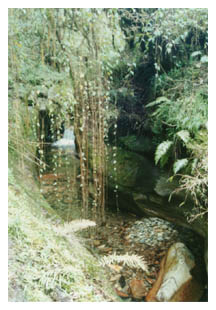 The forest slowly gave way to the jungle, and soon, the foliage around us was dense and moist. The boulders sprouted the most beautiful plants, a spiraling vine that Nepalis consider a delicacy. It is only found in the moist jungle soil, and Prakash scrambled around picking some to take back to Aama. We all joined in the hunt and finally stopped when we had a large bundle. I was excited for Aama to cook them and try it. The area was lush and green and we followed a rushing stream, through a boulder like canyon. Weeping willow type trees hung their limbs down in our faces. When we finally emerged from the jungle, we were above Ulleri, the famous town at the top of the more famous 2000 stone steps. After lunch there, Devi and I rushed ahead yet again to secure lodging in Tikhedhunga at the bottom of the stairs. Because it only had a few lodges, it was a popular place to stay from groups heading in both directions. While we could have pushed on to Nayapul which was only about an 1.5 hour beyond, we were all in no rush to get there and try to take a 2 hour ride back to Pokhara at night. We arrived in Tikhedhunga and took the last two rooms in Devi's preferred lodge. Ken and Lisa had one, and we all crammed in the other one because there were no other rooms. The owners gave us extra blankets to cushion the floor for the boys and Devi and I each got a bed.
After we had made up the room, the boys arrived and they quickly got a game of marriage going with some of the other guides and porters out in the courtyard. I sipped some tea with the family of the home. I sat on the stone wall demarcating their lodge and sketched for awhile, taking in the smal bustling atmosphere. A couple of children situated themselves right next to me, and we all snuggled together as I drew. One of them, a mildly retarded boy of fifteen, kept walking over to the store on the side and standing there for a little bit, and then coming back and checking my sketch until I drew him into the scene. He then took a seat behind me, pleased with the world. Ken and Lisa arrived and after settling in, came over to the courtyard and took a table to read and relax. I talked with them for a good long while at their table and then after some two hours, I got up and started for the room, but strangely enough, I could barely walk. My one foot was so tender and painful that I couldn't put any weight on it. I pulled up the leg of my kurta to expose my foot and it was starting to swell up. I thought back to the climb down the stone steps of Ulleri, how I was racing down them, competing with Devi to make it down first (don't do as I do, do as I recommend) and at some point, I must have flipped my ankle, although it didn't seem to affect the rest of my descent, nor the time I was walking around the lodge. It was only after I had sat for two hours, that the pain and swelling set it. I made it to my room, hopping with a walking stick and laid down on the bed, my foot propped up by five pillows. There was a german women doctor staying at the lodge luckily for me, and she gave me some anti-inflammatory medication as well as something else which question, but took it willingly with a glass of water. And she also gave me a bandage to wrap it with. The guys got some plastic bags filled with ice from the kitchen and chilled it. It was really painful, and more than enough reason to recommend hiking boots on a trek, if you are going to do any serious climbing and descending. Although, it more than likely occurred because I was pretty careless coming down the mountain.
It was a long night. The guys rather than going to sleep, talked most of the evening trying to come up with a plan to get me out of their the next day. We were all worried that I might not be able to walk come the morning, if it was as painful as it was that night. We discussed maybe getting a pony or a horse, but there were none to be found in the area. We thought about hiring a porter who would carry me in a chair strapped to his back, and I pretty much ruled out that suggestion. Prakash said he could climb back up to Ghorepani early the next day and borrow the horse from the lodge owner there, but I also ruled that out. That climb was bad enough coming from the other direction and all we did the day before was go down. I mentioned that maybe if we could call home, then Krishna, Devi's brother who drives the family's taxi could pick up a set of crutches from the hospital and meet someone at Nayapul who would bring the back to Tikhedhunga and I could walk out. Actually, I favored that plan because I had broken my foot a few years before and it had to be operated on, so I was on crutches for five months and pretty speedy with them. Then we came up with a plan to make some crutches. All we needed was some long sticks and some fabric to cushion it. It was a long night.
Day 10: Tikhedhunga to Nayapul (1.5 hrs) Bus back to Pokhara (2 hrs)
The next morning, I rewrapped my foot carefully, exchanged shoes with Prakash, who was wearing my hiking boots to begin with. I had given them to him to wear because I figured he was carrying a pack, while I was wearing sandals that actually were really comfy and great until the stone steps of Ulleri did me in. The swelling had gone down considerably, but it was still puffed up and barely fit in my boots. Without waiting for anyone else, I grabbed my trusty walking stick and with hugging the stone wall on the other side, made my way slowly out of town of my own accord. I was lucky because for much of the trail back to Nayapul, there was a short stone wall to the left of me which I could use to support myself.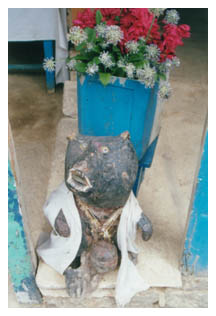 As I made my way slowly, I realized that it hurt less and less, that it gradually came to accept more weight, and that I was using the wall less and less. In the exact opposite of the night before, the more I flexed it, walked on it, used it, the better it got. Devi soon caught up with me, worried about how I was doing. But I was a lot better, and actually beat Ken and Lisa and the boys to Birethanti.See, I was doing so much better, that I even managed to get out my camera and take a few pictures when the moment struck me.
Carved wooden icon of an unidentified diety outside of a home
We pulled into the checkpoint, got our permits cancelled (this is the entry/exit point of the ACAP) and waited in a lodge to the side for the others to show up. After lunch, we walked through town and the last short climb to the road. The roadside there at the trailhead, Nayapul, was a bustling bazaar of small dhabas, serving and selling food and water to trekkers just starting or finishing their treks. We then caught the next bus heading back to Pokhara and hopped on.
What a journey, what a pilgrimage. I had come, I had seen, and I was sufficiently awed by much of what I saw. It's a beautiful area and while much of its beauty is there on the surface, scratch it a little and you'll find the hidden gems of Nepal.
Day 8-10 | back | back to Meet the Sapkotas