Much Adu about Apple Pie, Pilgrimage to Jomosom

Day 3: Trek back to Jomosom (4.5 hrs) and on to Marpha (2 hrs)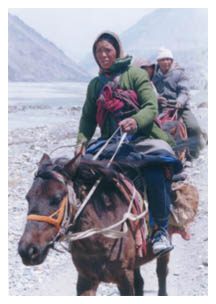 We left early in the morning and were soon joined by the crowd coming from Muktinath. We headed down the same single trail but just before the descent to Kagbeni, we veered off to the left and headed back for Jomosom. After some time, we descended into the Kali Gandaki gorge and followed the riverbed back to Jomosom. Here, though, the river was but a series of thin shallow streams in the dry time before the coming monsoon. We were passed numerous times by Nepalis descended from migrating Tibetans that lived throughout the region. They travelled to Jomosom to trade and buy goods unavailable anywhere else in Mustang.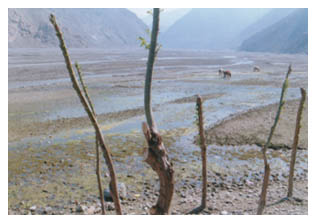 The Kali Gandaki Riverbed north of Jomosom
Walking faster than Ken and Lisa, we searched high and low for the famous saligrams, fossils of marine animals found inside smooth black stones. They are believed to be representations of Vishnu but also evidence that the Himalayas were once under water. They are supposedly plentiful along the riverbed north of Jomosom. We'd pick up a stone that looked promising and find another much larger one to pound it against until it cracked, looking for any tell-tale signs of fossils, but we never found any. As they are on sale (illegally) all along the trek, the area was sure to have been swept clean.
About an hour before Jomosom, we stopped at small home to rest. I appreciated his idea of a lawn ornament as we were welcomed in by the head of a yak. The owner was an amiable fellow and we chatted awhile and drank plentifully from the small stream he had diverted into his kitchen, while Ken and Lisa sipped their iodine water from Nalgene bottles. An aside, don't do as I do. Having spent a good amount of time in Nepal, my system was adjusted to the peculiarities of local water, but that fresh, crystal clear stream trickling out of the Annapurnas will probably wreck havoc on yours.
In Jomosom, we stopped to visit a friend, Vim from Devi's village, who was a teacher in the boarding school there. I took some time to talk with the students. It was a holiday and they were all in the hostel, chattering away. The school was one of the few English boarding schools for the entire district and it mainly drew students from villages throughout Upper Mustang including a large contingent from Lo Manthang. Still feeling good, we decided to continue on to Marpha and after checking in at the ACAP post, crossed the Kali Gandaki which had become a full-fledged river by this point.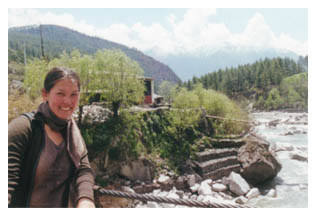 The trail between Jomosom and Marpha was flat, exposed and very windy, poised as it was to receive the full brunt of nature. The trail here was wide and easy going. For a number of years, officials have been kicking around an idea of building a road to Jomosom and it was evident that portions had already been cleared. Marpha appeared around a small hill, and the white-washed walls were the first thing that struck me as we passed under a gate to enter. The second thing was the absolute bad luck of a traveller who asked us if we had seen his passport anywhere along the trail from Jomosom. He hadn't replaced it in his waist pouch after he presented it at the ACAP checkpoint, but instead thrust it carelessly into his jacket pocket. Convinced it hadn't been stolen, but merely dropped accidently, he headed out dejectedly to retrace his steps back to Jomosom.
In contrast to the other villages we had visited, Marpha virtually gleamed. It was fresh and clean, and surrounded by the apple orchards that made it famous. Here, my piligrimage to taste the apple pie that beckoned travellers from all around was finally to be fulfilled. We pulled in and settled at the Paradise Lodge and immediately set out to explore.
We made our way to the main monestary that stood out above Marpha and climbed the long stairway to the top. It gave us a great birds-eye view of the town, and also the distinct feeling that we were rats running around in maze. The architecture was distinctly Mustang, with the load of wood piled up neatly around the perimeter of every building, the safeguard against long winters.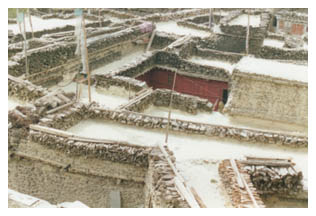 the rooftops of Marpha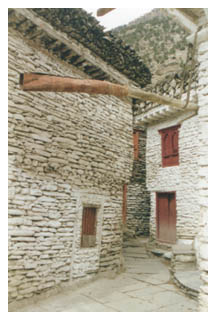 Descending back into the maze of streets, I was fascinated by the beauty of such mundane details like a water spout that jutted far into the street, precariously cantilevered as it was. The carved wooden windows, painted in the same dusty red, set into bright whitewashed stone exteriors.
The cobble-stoned alleys that invited you in to explore and then taunted you with dead-ends.
Back at the Paradise Lodge, we settled into the cozy common room and dispensing with any formalities, quickly began a mean game of marriage.
Now, all throughout Nepal, if you are discerning enough, you will notice small clusters of men gathered around playing cards, but not just any game. Marriage is the de facto national past-time, and generally the sole dominion of men, as it is a wager heavy game. The money transactions at the end of every round, might seriously challenge the options pit at any stock market. It starts with three decks, up to 6 players and 21 cards dealt to each person. That in itself is an art form, managing and holding a neatly fanned out set of 21 cards. Then a joker is chosen randomly and the game begins. The idea of the game is standard rummy, but the betting is distinctly Nepali. They have managed to assign bets to a variety of cards and card combination to boggle the mind, and get this! The money that a card represents is paid to each and every player simaltaneously. What this means is that when you have a few money cards of your own, all varying amounts, you will collect that money from each and every player, but remember that every other player may also have some money cards and be collecting from everyone else, INCLUDING you. The math is stunning. While I can easily compute it for two players, and even three, I was, and still am, completely in the dark as to how they do it for 6 players. And there is no holdovers, all bets are played and nothing is owed from hand to hand, or total chaos may reign.
Later in the evening, we met again with a lovely family from Australia that we had first encountered on the trek up to Muktinath. There was the mother, father and three lovely girls along with their guide. We spent the rest of evening playing cards with them. Why mght I mention such an introduction at this junction? They have yet a part to play in my tale.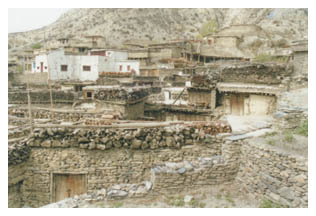 And, I finally had my apple pie. A light, fluffy crumb crust topping a delicately spiced interior, rich with fresh, still slightly crisp apples and the tell-tale smattering of brown cinnamon specks. mmmmmm
But to tell the truth, any crude rendition, heavily doused with sugar and overloaded with apples might have sparked the same reaction in a trekker, starved for the flavors of home, weakened by the day's exertions, and overcome with the need to ingest a safe, unspiced food that won't seemingly prompt stomach-ripping cramps and nightly excursions to the bathroom. As I am reflecting back on that foodie moment, I wonder if that's not what was mixed into Marpha's famed apple pie.